Municipal elections are held once every four years. The next municipal election will take place in 2026. The R.M. of Piney has four wards and five elected positions.
By-elections take place if a position in council is vacated more than six months before the next election. If the position is vacated six months or less to the next election, the position will remain vacant until the next election.
Wards
Wards are for election purposes only. The council represents, and looks out for the best interests of the whole municipality. Click the link below to view the ward boundary map:
Head of Council
The Head of Council is the representative for the Council as a Whole. They are elected by the body of voters as a whole to provide leadership over the entire Council. The Head of Council is allowed one vote just like the rest of Council and the public.
---
2022 Municipal Election Results
Welcome 2022-2026 RM Council!
The RM of Piney would like to show our appreciation to everyone who voted at this year's Municipal Election.
The 2022 election results are as follows:
The RM would like to congratulate the incumbent:
David Beaudry – Ward 3
(in by acclamation):
Wayne Anderson – Reeve
Ken Prociw – Ward 1
Dale Edbom – Ward 2
Mark Bernard – Ward 4
The RM of Piney would like to thank all the candidates who participated in this election.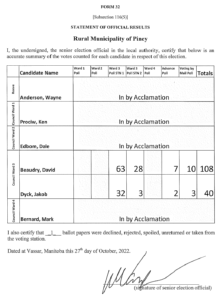 FORM 31 Statement of Official Results
2022 Election Materials
2022 Election Official Manual
2022 Candidates Guidebook
2022 Voters List Notice
2022 Notice of Registration
2022 Notice of Nomination
Candidate Order on the Ballots
Notice of Election 2022
By-Law 55 Campaign Expenses and Contributions
Campaign Expenses By-Law Schedule A
2022 Municipal and School Board Elections – Website
Bulletin #2022-29 – Municipal Relations – Presentation for Prospective Candidates
https://www.gov.mb.ca/mr/mfas/election.html
Please visit our election forms page to download forms and important information for the upcoming election:
2022 Election Forms
---