The R.M. of Piney encourages sustainable, green living. We strive to provide waste disposal services that are convenient and effective.
A plastic bottle will take 600 years to decompose in the environment. A glass bottle takes a million. The R.M. of Piney strives to protect the environment from litter and irresponsible waste removal. We ask that you take advantage of one of our waste disposal sites and recycling program to help keep our municipality beautiful and clean.
Waste Disposal Sites
The RM of Piney has three waste disposal sites with varying days of operation.
Sprague Waste Disposal Site – Pit Closed!
The household dumping pit at the Sprague Waste Disposal Site is closed. All household materials must be disposed of using the green transfer bins and recycling in the blue transfer bins.
Please ask attendants if you are unclear or have any questions.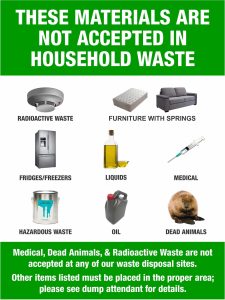 Vassar & Sandilands Spring Dump Hours
FOR BURNABLE YARD WASTE ONLY
Closed for the season!