Woodridge is the center of fun, recreation and relaxation. Seasonal and permanent residents alike will agree that there is no better place to spend a summer than in Woodridge.
History
Woodridge was built on the pulp and lumber industry in the 1900's, when the Canadian National Railway was established in the community. It was settled by French, Polish, Ukrainian and German peoples. People made their living by logging, cattle farming and berry picking.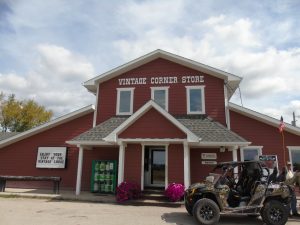 The Community Today
Set on the Western Border of the Sandilands Provincial Forest approximately 50 kilometers southeast of Steinbach, the cottage community here flourishes. With the development of numerous groomed snowmobile trails, Woodridge is seeing a steady influx of visitors. In the summers, ATV trails are maintained by the Woodridge Sandhogs ATV Club. The Woodridge Sandhogs maintain the designated ATV trails in Sandilands on behalf of our provincial association ATV Manitoba. The trail system is also connected to the Eastman ATV club's trail with a total of 140 km's and both are the first designated ATV trails on crown lands. These are a multi-use trail system – different user groups are welcome to use the trail system.
In recent years, Summer Fun on the Ridge has emerged as a family-friendly community event. The Woodridge Recreation Centre in the M.A. Querrel Community Park also houses the Golden Stars Seniors Club, fall suppers and fundraisers throughout the year.
Places
Woodridge Community Club Inc.
Woodridge Lutheran Cemetery
Community Organizations
Golden Stars Seniors Group
Woodridge Youth Club
Southeast ATV Association
South East Sno-Riders Snowmobile Club
Woodridge Business Association
Woodridge Sandhogs ATV Club
St. Alexander Roman Catholic Church