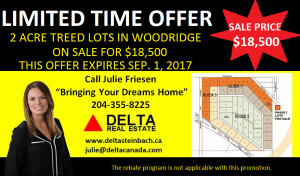 Located less than 30 minutes from Steinbach, build your home away from home today! 2+ acres available, priced at $12,500 per acre.
Click here to Download: Woodridge Subdivision Map
                                         Phase 1 of Woodridge Subdivision
Lots in Phase 1 of Woodridge Subdivision:
  Lots Available in Sandilands:
Spruce Avenue Lots Now Available!  (click here to view map)
 Sandilands Spruce Ave Purchaser Rebate (click to open)
RM of Piney Land Available for Lease or for Purchase:
(160 acre parcels unless otherwise stated)
RM Land for Sale or Lease (Click here to view list of RM land)
RM of Piney Hunting Land Lease:

Click here for Land Lease Permits
The RM of Piney has numerous parcels available ranging from 80 to 160 acres in size. The purpose of this property is for hunting, therefore vehicle use is only permitted on the acreage to retrieve game or to set up camp if this applies to you. Baiting is allowed but the leasee must maintain a clean site and keep rubbish to a minimal. Baiting must be done following conservations regulations to code. This land is being leased strictly as hunting land, therefore the land is to be used for only this purpose.
The integrity of the property is to be maintained during the time of the lease as it was before the lease begun. Therefore, no trees or removal or any objects from the property will be acceptable. No paths are to be made on the property being leased. The lease is good for the fiscal year beginning the second January of 2013 and ending on December 31, 2013. Once lease is over on January 1, 2014, anyone is allowed to lease that parcel at said time.
The fee for a Land Access Permit is $500.00, which allows a maximum of five individuals to access that parcel of land. No permanent structure(s) may be erected on municipal land without written consent from RM of Piney.
The land that the RM has for sale is any land that is clearly marked "RM of Piney" on the Rural Municipality of Piney map. We have RM of Piney maps available for viewing here at the RM office in Vassar, or you can purchase the map here at our office in Vassar for $35.00 each. We advise that people who are interested in leasing land from the RM come out and view the land to see what type of acreage is suitable for them. We have already leased out numerous properties so it is imperative that you come to the office to view the parcels of land that are still for sale.